Controlling your costs when using suppliers can often be a complex metric to manage. Whether it's additional damages, expensive materials or even cheeky suppliers, the price or the repair can get out of your control.
Wilbur Repair's Smart Allocator allows you to choose your supplier based on a series of considerations to ensure you select the best fit for your situation.
What is Wilbur Repair?
Wilbur Repair is a vetted, high performing, compliant network of trusted suppliers who use our proven workflow for the best results. The platform gives you access to a supply panel where suppliers can quote and repair residential or commercial properties.
To learn more about what Wilbur Repair is, click here.
How does Wilbur Repair control your cost?
Our Smart Allocator tool can help you control your repair cost by enabling you to make an informed decision rather than a guess when it comes to picking a supplier.
Generally, supplier allocation decisions often change based on cost, customer rating, capacity or lifecycle considerations. Wilbur Repair's Smart Allocator shows you the listed suppliers ratings based on these considerations resulting from their past performance. This allowing you to select the supplier that best suits your current claim needs. For example, is it a quick plumbing job that you're after? Or do you need the most cost-effective repair?
If your main objective is to cut costs, then Wilbur Repair's Smart Allocator can help you control your costs. One of the many metrics it can measure and allocate work by. The Platform has a highly competitive cost control feature that saves users costs per claim for property repair's.
Our platform is also free to use, so there is no risk in using the platform.
What else does the Smart Allocator offer? The Smart Allocator functionality in the repair platform offers a series of features including:
Complete flexibility to change the metrics on which you base your allocations
Learn which suppliers are over capacity before it's too late – especially during Catastrophe events
Meet your KPIs by re-prioritising metrics at any time
Reduce claim spend by allocating work to suppliers with the best cost results
Breakdown customer ratings into individual metrics to tailor decisions for specific claims
If you are trying to control your costs or just looking for a better way to optimise your organisation's supply chain process, Wilbur Repair is the tool that bridges the gap between you and your suppliers.
Click here to get in touch with a Wilbur Repair specialist today and take advantage of this free platform.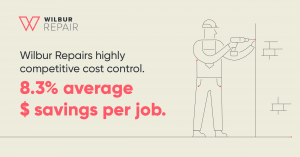 MEDIA ENQUIRIES
Jessica Hunter
NEWSLETTER SIGN UP
Receive our claims industry research report and occasional newsletters.