Claims management is a time-consuming, manual process that can be tedious and frustrating. To cut down on these frustrations, you need to have the right tools. That's why many organisations are implementing connected ecosystems that streamline and automate the claims process from start to finish.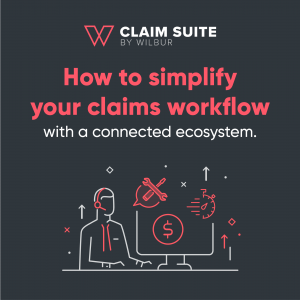 There are many reasons to automate your claims management, including increased productivity, better customer service, and lower costs. With a connected ecosystem of products that work together seamlessly, you increase efficiency across your entire organisation and provide better customer outcomes.
What is a connected claims ecosystem?
A claims ecosystem for auto and property claims includes multiple technologies, businesses and participants that support and facilitate all facets of claims management from first report of loss to remediation and closure. This includes providers of information technology, software platforms, inspection, estimation and professional repair.
Claims management is an ideal use case for leveraging the full potential of platforms and ecosystem clusters to pursue transformation, claims management and customer service excellence in an age when lower costs, speed and ease of use are fundamental expectations . In an industry whose products have been heavily commoditised by a hyper-competitive environment, the claims process has been a prime candidate for transformation. Auto, and more recently property claims, have been the focus of this attention.
For insurers, tapping into an ecosystem offers the opportunity to embed their insurance products into seamless customer journeys. In today's interconnected world, embracing ecosystems is of paramount importance to address the customer in their moment of need, whether fostering direct customer relationships or integrating with organisations that own the customer interface.
"It is not a matter of if, but when the insurance industry will have to adopt an ecosystem approach. The industry is not immune to the changing demands of the market." – Robin Roberson, Managing Director, Wilbur North America.
How does a claim ecosystem help you?
The best connected claim ecosystems help you connect the dots earlier to find the right solution – ultimately delivering better claims outcomes at scale.
Flexibility – Today's world demands flexibility – your business model can change at short notice, and you need the agility to help you adapt. Connected ecosystems allow fast and easy integration to your core platforms and tailored commercial models for any business type.
Modularity – Customer experience breaks down by applying disparate, disconnected technologies deployed to fix individual problems and gaps. You can minimise these risks with modular and connectable cloud-based platforms and solutions which you can tailor to your organisation's needs.
Connectivity – The world is empowered through collaboration. Connected ecosystems connect you to a marketplace of suppliers, technologies and solutions that get your customers back to normal faster.
Claim Suite by Wilbur
Connecting all aspects of your claims management workflow in a connected ecosystem provides better outcomes across cost, quality and speed of claim. Claim Suite by Wilbur is a modular and connectable ecosystem of products and solutions that make claims as connected, fair and efficient as possible – getting your customers back to normal faster.
To learn more about Claim Suite and the full range of products offered, click here.
Or to arrange a demo or get in touch, click here.
MEDIA ENQUIRIES
Jessica Hunter
NEWSLETTER SIGN UP
Receive our claims industry research report and occasional newsletters.