Connecting with customers, partners, and field resources can be complex. Making a claim is the critical contact point an insured has with their insurance company. How the claim is handled and how quickly the claim is resolved will affect the customer's opinion of the company. Live collaboration is a solution!
To improve customer retention, claims must be handled effectively and efficiently regardless of claim volume, location and damage type. Livegenic virtual collaborations give businesses the flexibility to overcome these challenges and ensure the best outcome for their customers.
Livegenic provides your customers and team a shared workspace accessible from any device through its browser-based solutions. It's easy to collaborate on projects with live video streaming, offline photo capture, digital document signing and real-time payments ensuring all stakeholders are kept up to date without waiting for emails or phone calls.
Effective businesses utilise tools that maximise capital and labour inputs to ensure that they are maximising output. Livegenic's powerful live collaboration tool, the customer portal, effectively connects a business to its customers without requiring the customer to download an app.
Features of the Customer Portal
Enjoy instant collaboration with no downloads, apps, or logins required. The Customer Portal is the fastest way to collaborate with your customers or field resources, providing live photo and video streaming, guided offline photo capture, digital document signing, real-time payments and direct document uploads – all through the web browser on their device.
One-click access, no login or downloads required.
Stream live video, audio and pictures.
Upload files directly from your device gallery.
Custom on-screen instructions.
Mobile payments.
Digital document signing.
White label with easy to customise colours, branding and language.
Can be integrated into your existing systems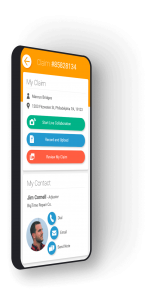 Features of the Self Service Portal
The Self Service Portal is an easy-to-use web app that enables customers to conduct an entire virtual inspection at their own pace. By providing dynamic visual guidance based on the details of their specific claim, including text instructions, image examples, and short-answer questionnaires.
App-based and download-free self-service tools
Offline recording in low-connectivity areas.
Configurable workflows are custom-built to fit your unique use cases.
Capture and submit inspection photos.
Custom questionnaires and guidance.
Dynamic inspections adapt to customer answers.
Image, text, and video-based instructions.
Request live assistance or support.
White label with easy to customise colours, branding and language.
Can be integrated into your existing systems
With Livegenic, all your customer engagement happens in one place – making it easier for you to stay connected with your customers anytime, anywhere. Livegenic is an easy-to-use platform designed for high-performance video collaboration and remote support applications. Are you interested in learning more about how Livegenic can help you simplify your claims process, ensuring unmatched customer experiences?
Click here to get in touch with a Wilbur Professional.
MEDIA ENQUIRIES
Jessica Hunter
NEWSLETTER SIGN UP
Receive our claims industry research report and occasional newsletters.