Wilbur is honoured to have been named a Finder Innovation Awards 2021 finalist for both the "Best B2B innovation" and the "Best Insurance Innovation" categories.
The Finder Awards celebrate the success of Australia's most forward -thinking businesses across key categories including banking, insurance, telecommunications, retail and travel. There are 27 categories open for entry which are judged on criteria including innovation, range of features and impact.
Wilbur's recognition as a finalist was based on our Claims Suite innovation. Claim Suite is a modular and connectable ecosystem of products and solutions that make claims as connectable, fair and efficient as possible- getting customers back to normal faster.
Winners will be announced in August.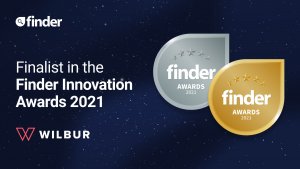 Best B2B Innovation
Companies offering innovative solutions for small businesses operating in Australia.
Best Insurance Innovation
The best innovation in insurance available in Australia.
To view the full list of finalists visit: https://www.finder.com.au/finder-innovation-awards
MEDIA ENQUIRIES
Jessica Hunter
NEWSLETTER SIGN UP
Receive our claims industry research report and occasional newsletters.